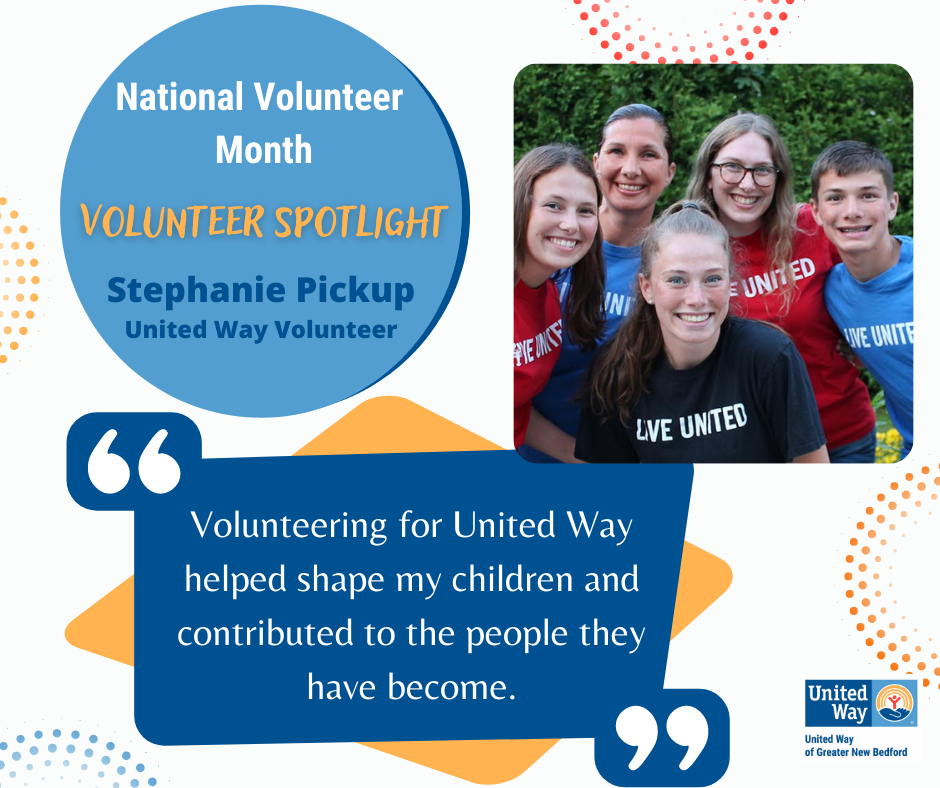 As an Army officer's wife, Stephanie Pickup was a mentor and leader for enlisted members' spouses, helping them succeed in military life and cope with the stress of deployments.
So she was eager for new ways to serve after her husband, Nate, a West Point graduate, left the military. He had served five years on active duty and then four years as a company commander with the Massachusetts National Guard.
"I like being part of something larger than myself," she said.
In 2013, Stephanie got involved with United Way of Greater New Bedford through the family business, Care Free Homes, in Fairhaven, where she is the marketing director. She started with the Hunger Commission and joined the Hunger Heroes Committee, "Before I knew it, I was on four committees," she said.
She and Care Free Homes have supported a variety of United Way programs, including Baby Bundles, which assembles and distributes items for newborns; the Holiday Wishes program at Christmas, and Wash & Read, which provides books for children at laundromats while their parents wash laundry.
Stephanie's favorite, however, is the Mobile Market, which distributes food in New Bedford neighborhoods. She was drawn to the Mobile Market because it offers direct contact with the people who benefit, and her four children, now ages 15 to 22, could help out.
It's easy to take life's basics for granted until you see someone cry in gratitude for a bag of vegetables, she said. "I like my kids to know that sometimes people don't even have food," she said. "They saw the rewards of doing good for your community.
"You can donate online or drop money into a can at the grocery store, but meeting people face to face has so much more impact," she said.
Volunteering for United Way helped shape her children and contributed to the people they have become, she said. "United Way of Greater New Bedford will always be a huge part of Care Free Homes."