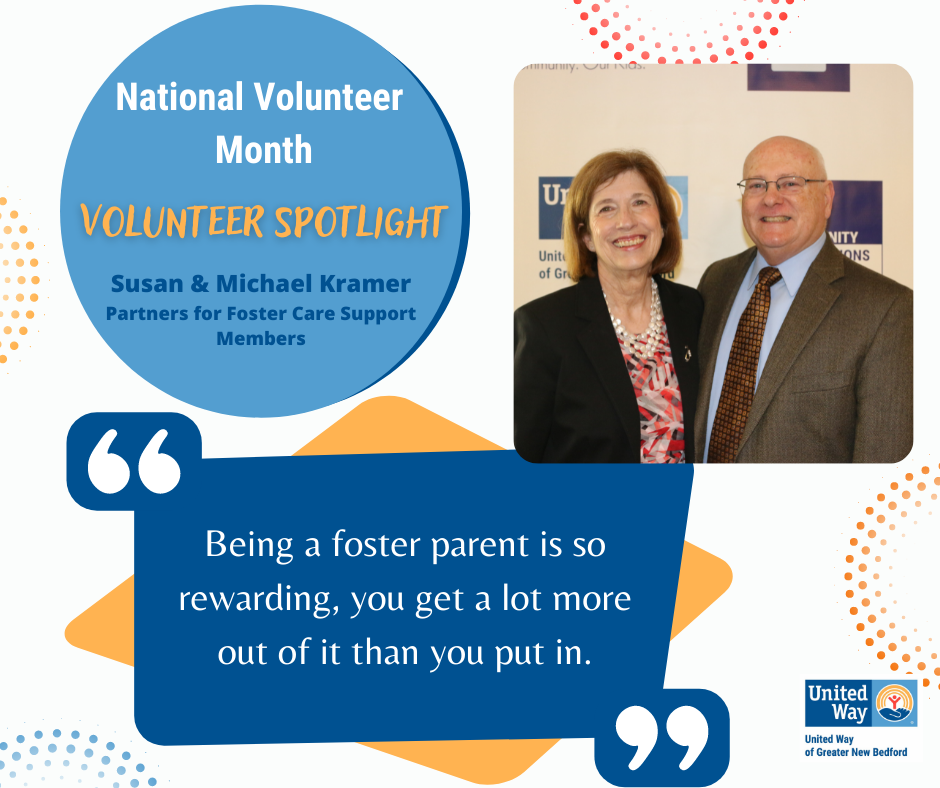 Susan Kramer became interested in foster parenting nearly 20 years ago, when one of her students at Bristol Community College turned in a paper.
"He wrote that he was a failure," said the professor of child development. "I was shocked. He was bright, engaging and polite — everything you want in a student."
The student had been a foster child, and Kramer was convinced that the real failures were the adults in his life. Soon after, she and her husband, Michael, became foster parents themselves and together have fostered about 70 children over 17 years, becoming permanent guardians of one boy.
They also serve with Partners for Foster Care Support, which works to help support foster parents and ensure good outcomes. The group is under the umbrella of the New Bedford Community Connections Coalition which is a program of United Way of Greater New Bedford.
"We help foster children by helping foster parents," said Michael.
Among the group's efforts is to offer tutoring for foster children in elementary and middle school. The program started during the COVID-19 pandemic, when many students were forced to learn from home. The group also administers an enrichment fund provided by United Way that pays for camp fees, bicycles and other summer experiences for foster children.
The Dartmouth couple also participates in panels to discuss foster parenting with social work students at area colleges, such as Bristol and Bridgewater State University. And they encourage anyone who is interested to become foster parents, even if just for a night or two while arrangements are made for a longer-term foster placement.
The need for foster parents has risen since the start of the pandemic, when many families stopped accepting foster children.
"Being a foster parent is so rewarding," said Susan. "You get a lot more out of it than you put in."