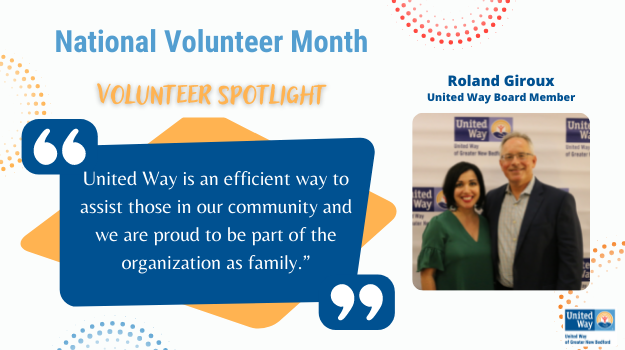 Roland Giroux, Executive Vice President and Associate General Counsel of Acushnet Company, has been a United Way donor throughout his career.
But he has a special affinity for the United Way of Greater New Bedford, where he volunteers his time as chair of the Board of Directors.
"Our United Way is innovative and adaptable," he said. "We are one of the few United Ways in the country that in addition to funding programs, we also run our own programs that directly address specific community needs."
The traditional approach of raising money through payroll deductions to funnel to local charities remains important, he says. But our United Way's focus on directly addressing such issues as food insecurity, opportunities for youth, family support enabled the organization to respond quickly when Covid-19 threw the community into crisis.
Even before money from local donors, foundations and the state started flooding in, the United Way was adapting its programs to assist those who lost income because of the pandemic and others who had to keep working, but without the supports of school and child care.
"We were uniquely positioned to meet the moment," he said.
United Way rose to the challenge with nimble leadership and support of the community and its business and other partner organizations, he says.
Roland got involved with United Way more than two decades ago through his job. He remains involved with United Way of Greater New Bedford because of the breadth of community needs it helps meet with a relatively small staff — he calls them "magicians" — and tight budget. He has since gotten his children involved as well. "United Way is a great way for them to get involved, serve others and learn about the community."
"It drives me crazy that people just a short drive from where I live go to bed hungry," he said. "United Way is an efficient way to assist them and we are proud to be part of it as family."