Rosemarie Lopes, a senior partner at Sylvia Group, is a former Marine sergeant who brought her desire to serve when she returned home from the military.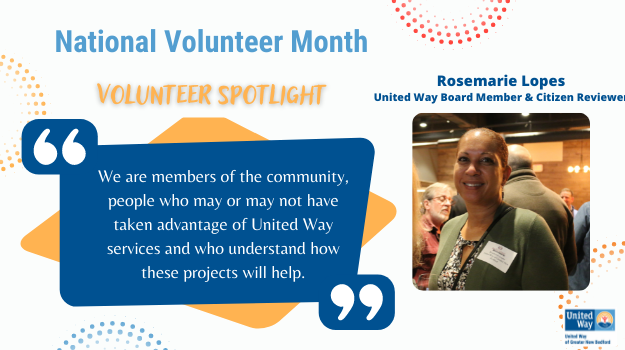 "I just naturally felt this was something I wanted to do," she said.
Fortunately, Sylvia Group gives its employees time to volunteer, an important benefit for Rose, whose weekends and evenings were devoted to raising her two children. In fact, community giving is part of Sylvia Group's strategic planning, she said. If employees have a civic passion, they are encouraged to pursue it.
Born and raised in New Bedford, Rose's passion is for the well-being of the community. So she joined United Way of Greater New Bedford's Citizen Review Committee, which evaluates proposals for Community Impact Grants.
Community Impact Grants invest local dollars into the community by supporting projects that address targeted issues in one of United Way's priority areas — health, education, financial stability, or basic needs —grants range from $10,000 to $25,000.
Rose has reviewed hundreds of proposals during her 20 years on the Citizens Review Committee and is proud to be its longest-tenured member.
"It's not someone behind a desk making the decisions," she said. "We are members of the community, people who may or may not have taken advantage of United Way services and who understand how these projects will help."
Now that her children are grown, Rose has agreed to take on a new role at United Way. She recently became a member of the board and plans to be active on committees.