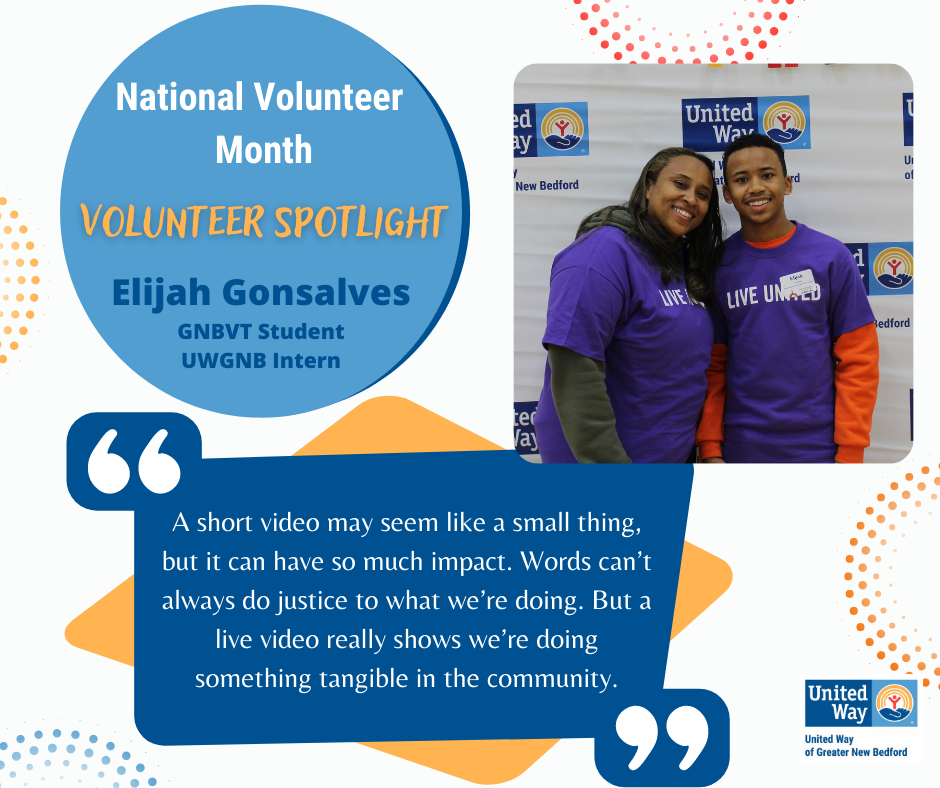 Elijah Gonsalves is active with his church, president of his high school junior class and preparing to compete in a national speech contest in May.
In his spare time, this 17-year-old New Bedford resident also volunteers as a video editor with United Way of Greater New Bedford. He edits how-to videos, event recaps and other videos that appear on the website and social media. His first assignment involved videos of the Live United award winners.
"A short video may seem like a small thing, but it can have so much impact," he said. "Words can't always do justice to what we're doing. But a live video really shows we're doing something tangible in the community."
The Greater New Bedford Vocational Technical High School student got involved with United Way in September through his cousin, Starlene Alves, a local lawyer whose serves on the board of the organization. Gonsalves' mother, Lisa Amaral, also is a United Way volunteer. She started through her job at First Citizens Federal Credit Union, where she is Regional Leadership Partner.
Video is a serious hobby for Gonsalves, who is on the production team that broadcasts services online at the New Life South Coast church in New Bedford, but he doesn't plan to pursue it as a career. He studies information support services and networking at school, and hopes to land a summer internship with the Management Information Systems Department for the City of New Bedford.
A member of Business Professionals of America, he recently won the organization's statewide speech contest with an address entitled, "An Entrepreneur Named the Gospel." He will deliver the speech again in May, when he travels to Dallas for the national competition.
Despite his many involvements, however, Elijah says it is hard to match the satisfaction he gets from volunteering with United Way.
"I've been raised to give back to community," he said. "I like to serve."