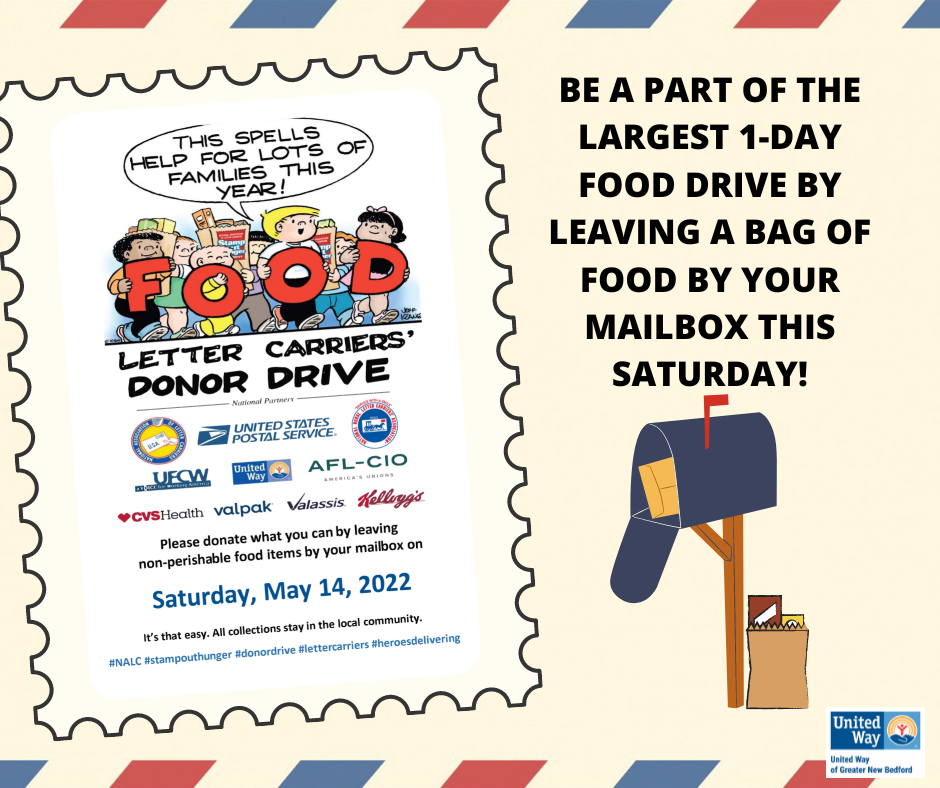 The National Association of Letter Carriers (NALC) Branch 18 is once again partnering with United Way of Greater New Bedford for the 30th Annual Stamp Out Hunger on Saturday, May 14.
The Stamp Out Hunger Food Drive is the country's largest one-day food drive and has provided residents with an easy way to donate food to those in need since 1983.
Customers simply leave their donation of non-perishable food items next to their mailbox before the delivery of the mail on Saturday, May 14. Letter carriers will collect these food donations on that day as they deliver mail along their postal routes and ensure they are delivered to local food pantries. United Way of Greater New Bedford's Hunger Commission will be coordinating this effort locally.
"The return of Stamp Out Hunger after a two-year hiatus due to COVID-19 couldn't have come at a better time," said Victoria Grasela, VP of Marketing & Community Engagement for United Way. "Locally pantries have been seeing an uptick in the number of people coming for food each month. We hope that we can count on our community to help their neighbors in need."  
Stamp Out Hunger is held annually on the second Saturday in May in 10,000 cities and towns in all 50 states, the District of Columbia, Puerto Rico, the Virgin Islands and Guam. Hunger affects 1 in 8 Americans, including millions of children, senior citizens and veterans. Over 1.82 billion pounds of food has been collected since its inception.
"Letter carriers are a part of every neighborhood in the nation," NALC President Fredric Rolando said, "and we see the growing need for food assistance in our communities. On Saturday, May 14, NALC invites everyone to participate in the annual Stamp Out Hunger Food Drive. Together, we can help stamp out hunger in America."
On May 14, as they deliver mail, the nation's 200,000 letter carriers will collect the donations that residents have left near their mailboxes. People are encouraged to leave a sturdy bag containing non-perishable foods, such as canned soup, canned vegetables, canned meats and fish, pasta, rice or cereal next to their mailbox before the regular mail delivery on Saturday. The food donations stay in each community, going to help local residents.